2020.02.14 ホテル情報/hotel
嵐山唯一の開放的なホテル屋上 More Relux&Open View Rooftop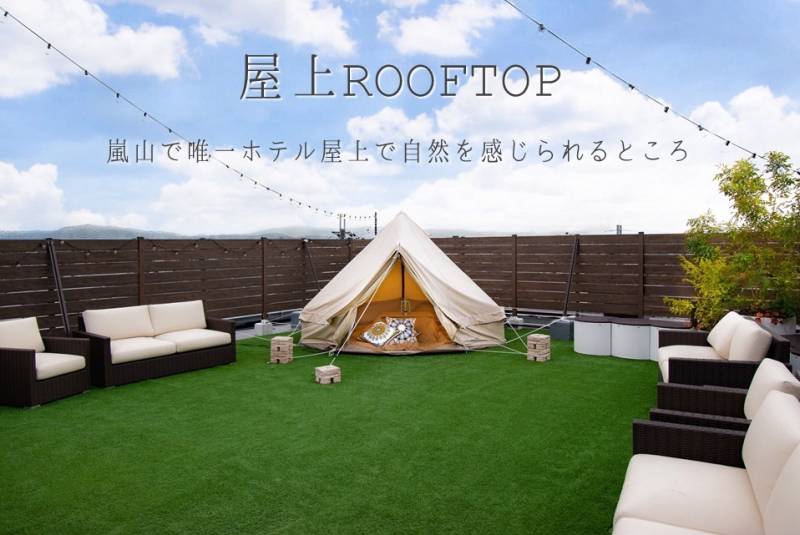 京都には高い建物が少ないため、
遠くの山まで見渡すことができる屋上は
空もひらけているので
とても開放感があります。

日々の喧騒から離れてのリラックス、
観光で一日中歩いた後ののんびり、
お部屋以外のお子様の遊び場としても、
屋上で過ごしてみてはいかがですか?

ご宿泊お待ちしております。

If you've seen pictures of Kyoto or have visited, you may have noticed that there are no buildings taller than a certain height.
That's because the city has rules so that buildings cannot be taller than the stunning pagodas that we're lucky to have in this historic city.
This means that you can also clearly see the lush mountains that surround the city and enjoy an expansive view of the sky from our rooftop terrace.

Go up for a respite from the hustle and bustle of sightseeing, as a safe place for kids to play, or as a way to regain your energy for more travels.
It's never too late to take care of yourself.

We hope to help you do that when we get the chance to host you in Arashiyama!

 
宿泊者限定で開放しているホテル屋上が、
よりゆったりと過ごしやすいように
日々新しくなっています。

Our open-air, spacious rooftop terrace is a secluded, crowd-free space for guests to take a break from sightseeing and get a breath of fresh air. We're always updating the outdoor furniture to keep it new and fresh.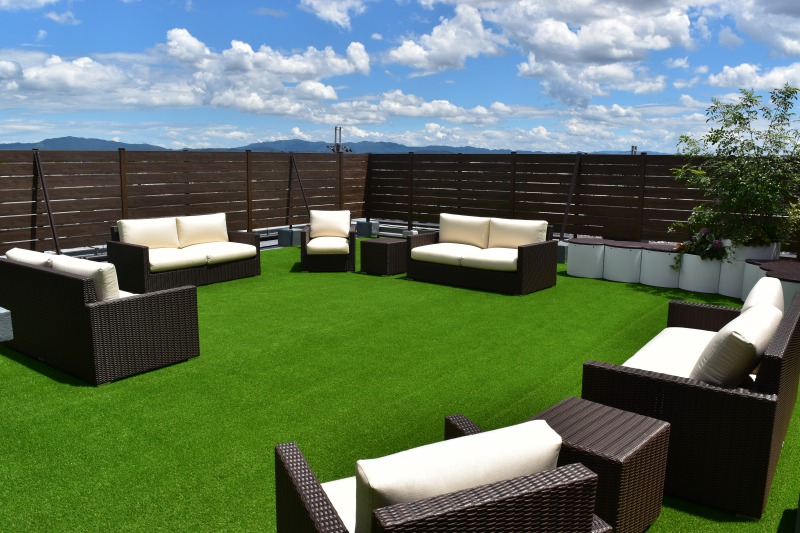 屋上には弾力のある
ドイツ製のソファがあります。

複数ありますので、
お好きなソファでゆっくりお寛ぎください。

We've provided several cushy, German-made outdoor sofas on our rooftop terrace.
Have a seat in whichever one tickles your fancy.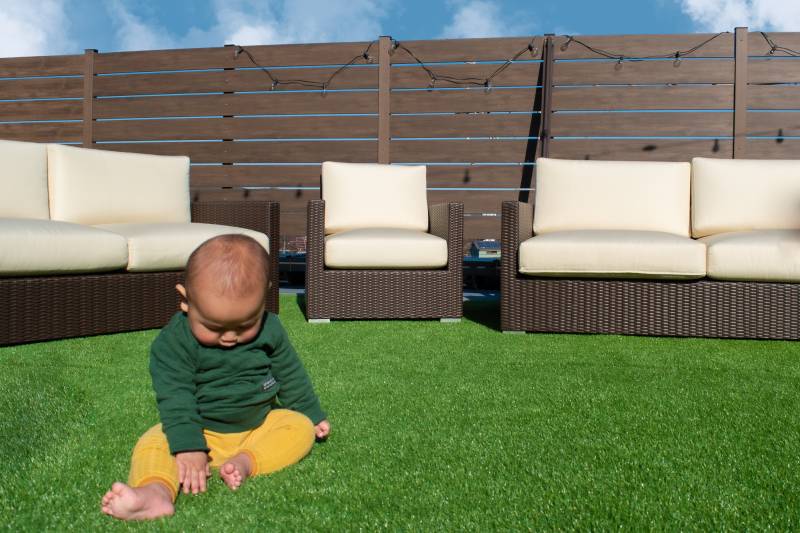 床にはふかふかの芝生を
一面に敷き詰めています。

お子様が地べたに座っても、
走り回っても安心です。

Beneath your feet, you can feel the soft and springy green turf that'll make you feel like you're sitting at the park.
The turf is soft enough so that kids can safely play and parents don't have to worry about scratches and cuts.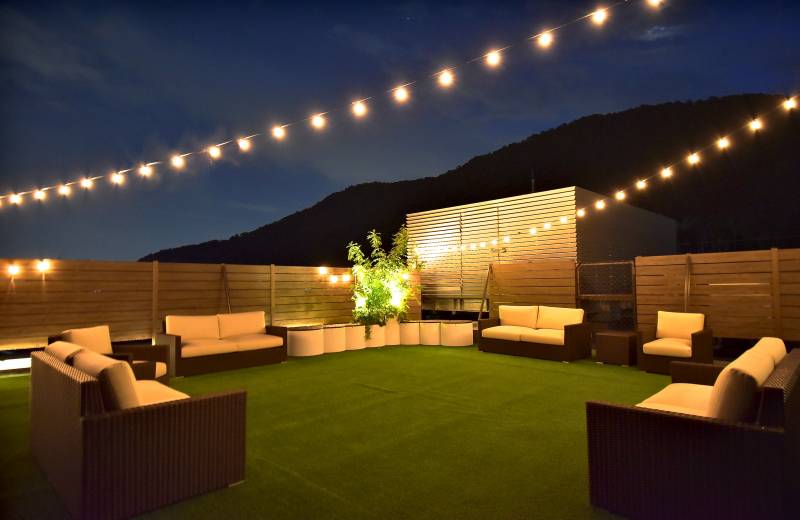 日が沈んだら、屋上はライトアップ。

昼までの雰囲気と違い、
とても落ち着いた雰囲気になります。
お酒を片手にのんびりと過ごすのもGood

When the sun goes down, the lights come on.
The rooftop terrace is illuminated at night by gentle lighting to calm and soothe away stresses of the day.
Each person will have their own preference for how to spend their downtime in the relaxing nighttime ambience, whether it be with a drink, book, music, or wherever your mind takes you.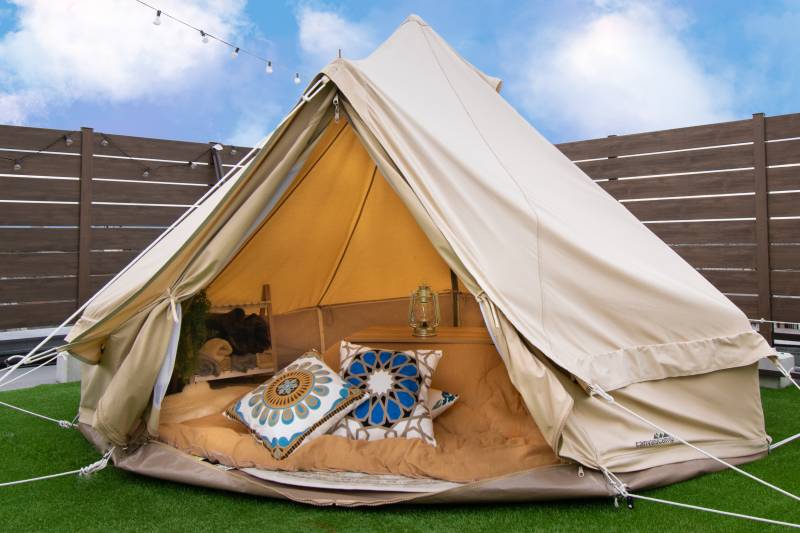 大きなテントは防水防風のため、
とても快適です。

中でカードゲームをしたり、
飲食もできます。
冬にはあったかコタツもあり、
猫のように丸まってお昼寝OK。

Since it's nice to spend time outdoors in all seasons, we've pitched a windproof and waterproof tent for guests to hide out inside and be protected from the elements.
We welcome you to play a game of cards or enjoy some food and drinks while you're in the tent.
For the winter, we've set up a Japanese heated table known as a kotatsu, so you'll have a place to keep your feet warm and maybe even take a catnap!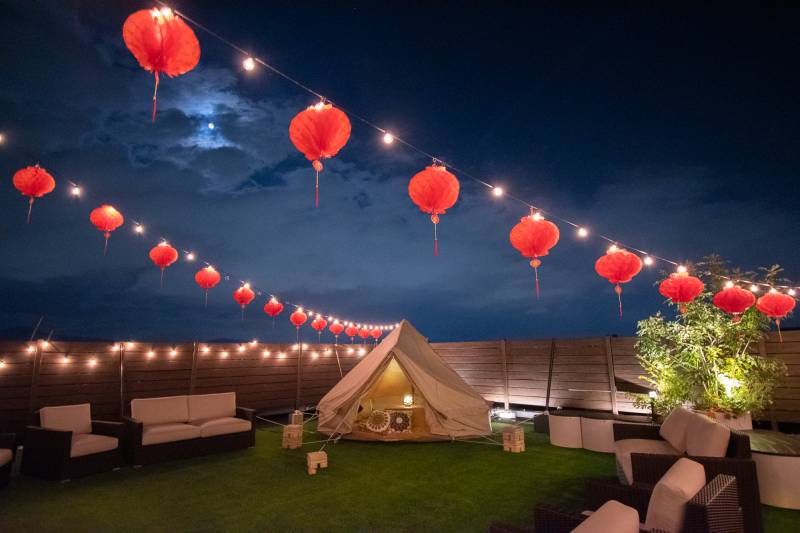 季節によって、
屋上の雰囲気はがらっと変わります。

今まで、
秋にはもみじがたくさんの紅葉の飾りつけや、
旧正月には赤い提灯を空に
ぷかぷか浮かぶように飾っていました。

これからも、
宿泊される時期だからこそ味わえるような
季節ごとの飾りつけをしていきます。

If you come back to our hotel during a different season, you're sure to see that our rooftop terrace has changed for that time of year. In the fall, you would have found Japanese maple leaves scattered around, and for the Lunar New Year, you would see the famous red lanterns hung above your head.
We have talented decorators in our staff so that you can take in the spirit of any holiday or season and enjoy it as much as possible.